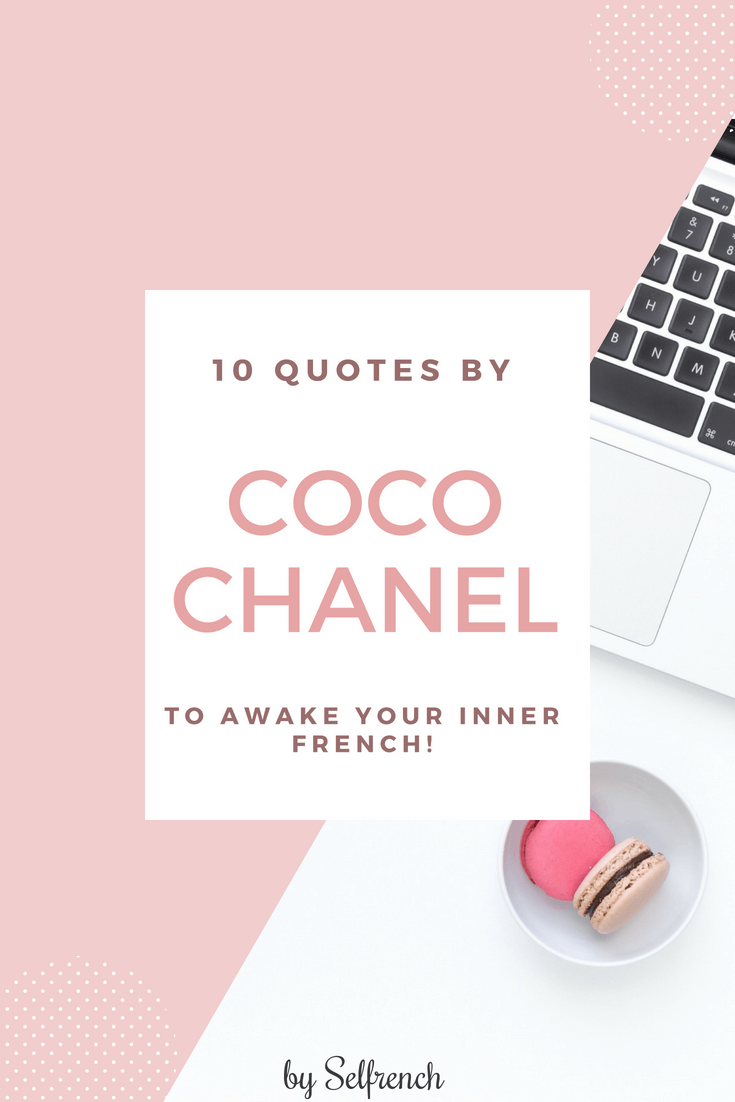 Hello there, bonjour!
What is the first thing that comes to your mind when you think of France?
If fashion is not one of your first choices, you probably miss out on a lot that the country has to offer. Obviously sitting in the front row at a runway is not the apanage of the average French person, but fashion is a major part of a French lifestyle, whether you prefer sporting casual Jean-Paul Gauthier's inspired stripes or the iconic red of a pair of Louboutin, one must admit that France is the birthplace to many famous couturiers and designers.
The legendary Coco Chanel is no exception to that. Born Gabrielle Chanel (and misspelled "Chasnel") the fashion icon has a very central place in what is considered today's French fashion and the "French touch". Her glamorous style has revolutionized many outfits such has the little black dress.
And here we are today, revisiting 10 statements from France most elegant lady, Coco Chanel.
C'est parti !
Translates to: I don't regret anything in my life, to the exceptions what what (the things) I didn't do.
Probably an excellent life motto, am I right? Coco Chanel's early years were quite the controversy, she was the mistress a much older man (and another, and a few more), she danced and sang in a cabaret, and well, her ties to the Germans durant the Occupation were also the cause of much trouble.
In any case, she had an exciting life and did not waste time dwelling on her regrets but rather going forward and revolutionizing Fashion was certainly enough work.
Translates to : "Fashion fades, but style endures"
Indeed, as the designer that we know her to be, Coco understood that trends come and go constantly. But style, now if you have style, you are guaranteed to always pull it off!
For example, Chanel style evolved over the years but she had a general idea of fashion that never changed: practical and sporty, black and white, strong, bold lines...
Those were her trademarks and years after, still remain.
Translates to: "Beauty begins the moment you decide to be yourself."
Now, since our magazines are filled with: "How to look better?" And/or "You're beautiful as you are" kind of articles, it seems only logical that Chanel had her own take on the topic.
And of course, her clothes were designed to liberate women from the corset, from those obsolete forms of beauty! She wanted to dress women so clothes could follow them, not limit them.
In short, she wanted them to express their true personality because she believes beauty lies in one woman's comfort o be herself.
Translates to: "Simplicity is the keynote to all true elegance."
Obviously, we have all heard Coco's advice to always remove the last piece we put on before leaving the house. Certainly, wearing too much is the fastest way to ruin a gorgeous look. Simplicity and trust in your good taste, that your dress is enough, your make-up just right, is the key to nailing the perfect and elegant outfit.
Overdoers lose themselves in their quest for perfection.
Translates to: "Some people think luxury is the opposite of poverty. It is not. It is the opposite of vulgarity."
It might be hard to understand, after all, one can't be poor and own Chanel bags at the same time. But Coco understood that being rich or poor had nothing to do with luxury. Far too many, from both side give into vulgarity, and for Chanel sleek style, that was a fashion no-no.
Translates to: "A woman who cuts her hair is about to change her life"
Now I think we can all relate to this one: Changing one 's appearance often happens when another change is happening in our lives. We might realize it only months or years later, but often, one look = one episode of our life.
Which is what I understand from Coco Chanel. In truth, there is no better way to highlight change than to change our haircuts.
One other thing though: since Coco Chanel worked a lot o the male/female codes using men jersey to create her first dresses, for example, I think we can also interpret this segment another way: In the patriarchal society where Coco bloomed, having long beautiful hair was (and to a certain extent still is) a symbol of femininity.
But Coco fought to defend her value of femininity: comfort and elegance. I believe a woman cutting her hair was accessing a whole new world of breaking expectations, beauty standards, and self-confidence.
What do you think?
Translates to: "I only drink Champagne on two occasions: when I am in love and when I am not."
Another great one!
Lifestyle is certainly a key to understanding Coco Chanel's vision. Money isn't much if you don't have the taste, the elegance to pull it off. And Coco knew to indulge in the everyday luxury of a glass of Champagne. I love the sass and the unapologetic vibe that this quote has. Also, a certain talent for formulation.
Translates to: "Elegance is when the inside is as beautiful as the outside."
Whatever Coco Chanel has to say about elegance instantly becomes a mantra to follow, and a rule to live by. The designer's work of dressing a person, making them beautiful "on the outside" doesn't make her work shallow or superficial but rather highlights how both the heart and soul of a person and their clothing can reflect a sense of elegance, style and sophistication.
Translates to: "Dress shabbily and they remember the dress; dress impeccably and they remember the woman"
Chanel knew women and had a lot to say about them. Her passion and life purpose, her talent and vision to dress "La femme" in all its splendor was to create clothing to follow women in their lie, to reflect their personalities and break free from clothing that would limit rather than enable women to pursue the lifestyle they want.
Translates to: "A woman who doesn't wear perfume has no future."
Pretty bold!
I love the tonality, almost fatality of this extract. My understanding is that details matter. Working careful, and consciously, paying attention to the little things is the main key to go far in life. Yes, summarizing a woman's future based on wearing perfume seems completely far-fetched!
But Coco has this talent to formulate big ideas with simple words and ideas, by referring to her world of fragrance and fashion. This blunt and direct declaration is what makes me love Coco Chanel so much. She was never afraid to speak her mind, to step forward and do the best she could for women the best way she possibly could. By dressing and inspiring them.
Coco Chanel is one of my favorite French celebrity and personality. Though many other women deserve to be discussed, known and celebrated, Coco is a real inspiration, her talent, passion and attitude are remarkable and I believe that not everyone can be a Marie Curie, and Edith Piaf or a Simone de Beauvoir, but anyone can take a page from Coco's book and gain the courage and motivation to dream big and live purposefully, whatever are goals in life are.
That's all for Coco Chanel's quotes!
Obviously, this was a personal selection among the ton of quotations from the designer. Do you have a favorite?
Let us know below what you think of these quotes and Madame Chanel!