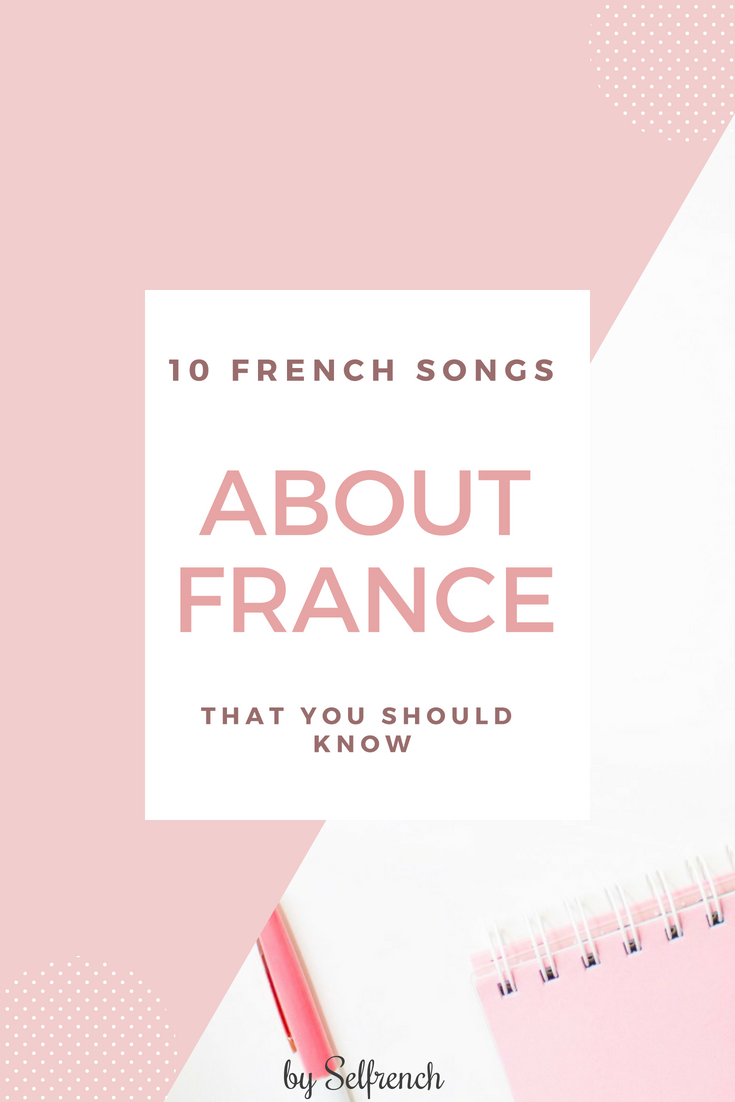 Hello folks, bonjour à tous!
Today I would like to share some special songs with you. Many songwriters have been inspired by France over time and I compiled a list of French songs about the country or sometimes about a more specific place. Various songwriters have drawn inspiration from their birthplace for instance or a fell in love with it (check my favorite from Pascal Obispo below!).
C'est parti !
1) Il est 5 heures, Paris s'éveille - Jacques Dutronc - 1968
Yes, it's not exactly the most modern song, but a classic! And also, without this song from Jacques Dutronc, you might not understand the reference in the next song...
2) J'aime plus Paris - Thomas Dutronc - 2007
Ok, his name kind of give away the surprise here... Indeed Thomas Dutronc, is the son of previous artist Jacques (and French singer Françoise Hardy). With such a parentage, Thomas has large musical influences and in his song "J'aime plus Paris" he briefly references his father's hit... Can you spot it?
3) Ô Toulouse - Nougaro - 1967
Philharmonic version
Once again, not the latest hit on the radio, but old is gold. This famous song from singer Claude Nougaro is a romantic tribute to the Pink City of Toulouse.
4) Aux Champs-Elysées - Zaz - 2015 (cover from Joe Dassin 1969)
Talking about classic... here I chose a cover version from the young interpret Zaz, which brings a modern, yet elegant and suave twist to the original.. Paris as we like it!
5) Lettre à France - Michel Polnareff - 1977
This song is has a very special story: first, the lyrics can be understood in two different ways: as a letter from a man to a woman he loves, far away, or as the letter of a man missing his home and country. Indeed, Polnareff wrote the song as during his exile in the US. He left when threaten with jail, bankruptcy and the popular opinion had turned against him. He came back years later, but as a French man in California and then New York he missed home a lot. This song is accompanied by beautiful French sceneries =)
6) Je viens du Sud - Chimène Badi - 2004 (cover from Michel Sardou 1981)
Originally from the popular French singer Michel Sardou, the young singer discovered in one of France first TV talent show, Chimène Badi covers the song. Her powerful and moving voice charms the audience and she became a major reference of France's most exceptional voices.
7) Tombé Pour elle - Pascal Obispo - 1994
Though various references indicates that the song was written for the gorgeous island located in Bassin d'Arcachon (ok, I'm totally biased here, so give me a hand and let me know if this song is really as lovely as I think! - born there) the song can be interpreted as a love song to a woman, just like Polnareff "Lettre à France". Of course, the video, shows glimpses of both, but unless you like to be wooed with nautical metaphors, this is a song written for l'Ile aux oiseaux. Sorry ladies!
8) Saint-Tropez - Quentin Mosimann (Cover from 1965 - Geneviève Grad)
Another song with a great story! Quentin Mosimann, winner of the TV reality show Star Académie in 2007 is more DJ than singer, and here covers the mythical Saint-Tropez hit. First appearance in the cult movie Le gendarme de Saint-Topez, the videao and song are an homage to the nostalgia of the sixties.
That said, I found the clip really weird when he slipped something in the girl's drink and she then wakes up 40 years later (not recognizing the place). I'm pretty sure someone could have found something better than slipping drugs in a girl's glass... Anyway, the song is great, I'm just giving you a heads-up in case!
9) Sous le ciel de Paris - Edit Piaf - 1940
Because this list could not be completed with a song from la Môme Piaf, here's Sous le ciel de Paris, typical song from the bal musette, travel back in time! The songs has more covers than one can count, but for once I thought the original was more suitable!
10) Paname - Slimane
And to complete this list a much more actual song, from young artist Slimane and his dreams of "Paname" (slang for "Paris" y'all!) As you can see (or hear rather), the capital of France has inspired various artists across times and it's not about to end!
Please leave your favorite songs about France in the comments below!